Halloween Crafts - 15 Options
One of the most mysterious Halloween holidays is just around the corner. It doesn't matter if you're celebrating the evil spirits inspired by American culture or not. You can simply consider it a reason to have fun and make unique Halloween crafts with your children with your own hands. Here are the unique workshops how to make them with step-by-step photos.
Currently in our country there are a large number of people celebrating the Halloween festival that is widespread in Great Britain, Northern Ireland, the USA, Australia and New Zealand. He attracts with his non-standard, emotional and provides an opportunity to have a party with the participation of mystical characters. Despite the characteristic attributes of Halloween and the relationship with unclean forces on the day of its celebration, it causes delight, especially among children.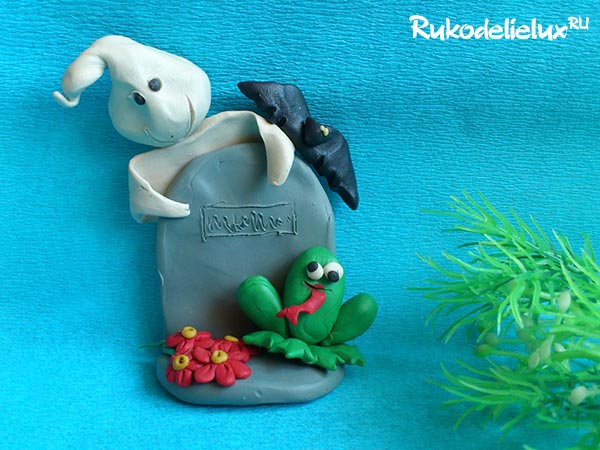 Content:
In addition to the sinister atmosphere and music, bringing on everyone the fear, the main tradition of the holiday is to dress in various costumes and begging delicacies from the owners. Children love to receive a gift of chocolates, sweets, cookies and other goodies. To small monsters did not cause trouble to the owners, some masters simply put a basket filled with sweets on the doorstep, while others themselves entertain themselves on Halloween and treat them personally.
We can not fail to note the great importance of Halloween entertainments for raising the mood and fighting seasonal depression of a sad pore.
DIY do-it-yourself Halloween workshops
By the wonderful night of October 31, you need to prepare in advance. Witches, bats, spiders - these are all attributes of this holiday.
01. How to make a spider on Halloween
In this master class I will show how to make a spider with my own hands. Such crafts will be a great interior decoration.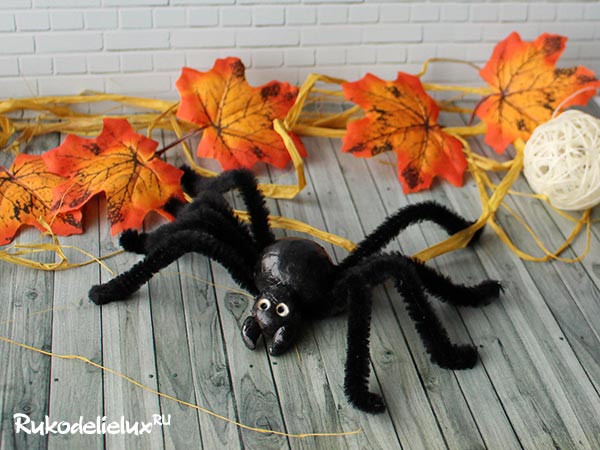 For crafts we need:
Blue wire;
chestnut (it can be replaced with clay);
plasticine;
glue.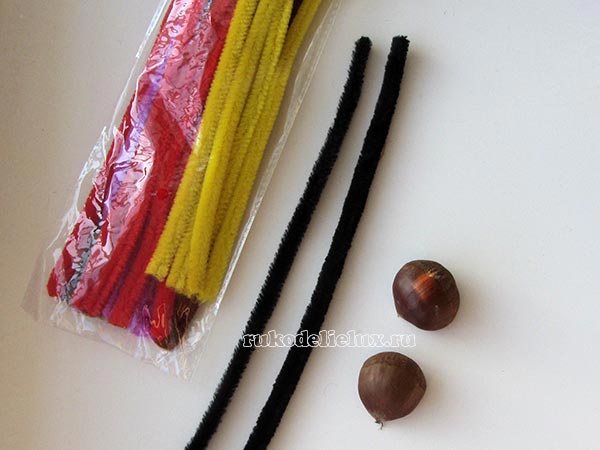 Take four wires and shape the legs of the spider, as shown in the photo.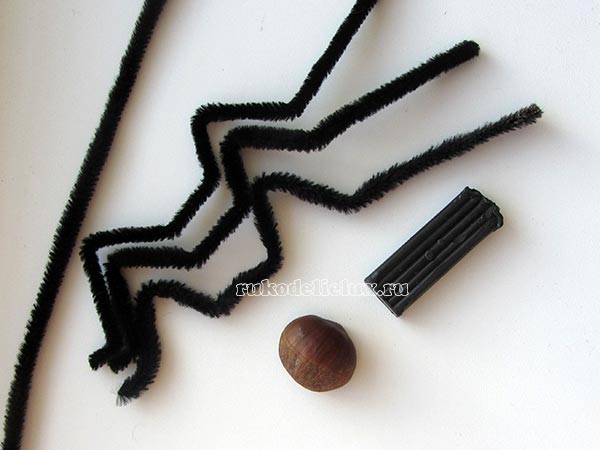 From the chestnut and plasticine we form the spider shape.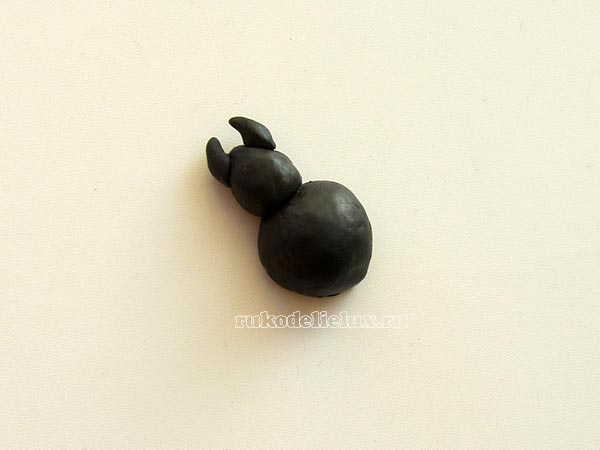 Attach the legs with glue.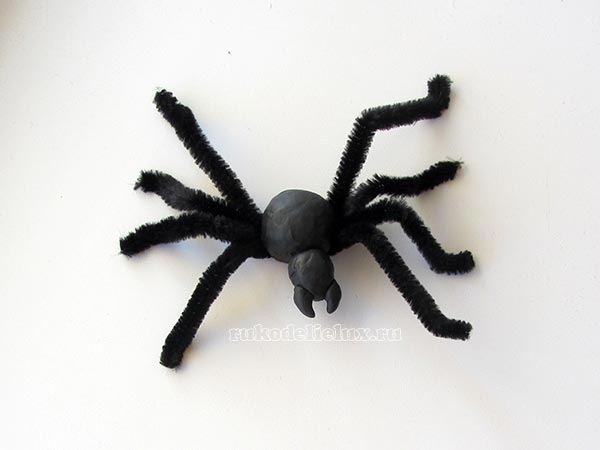 We form eyes from white and black plasticine.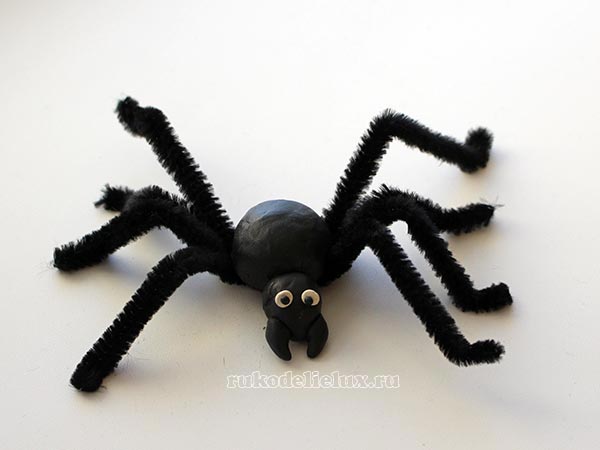 The body of the spider can be covered with a colorless or black varnish. I used the usual colorless nail polish.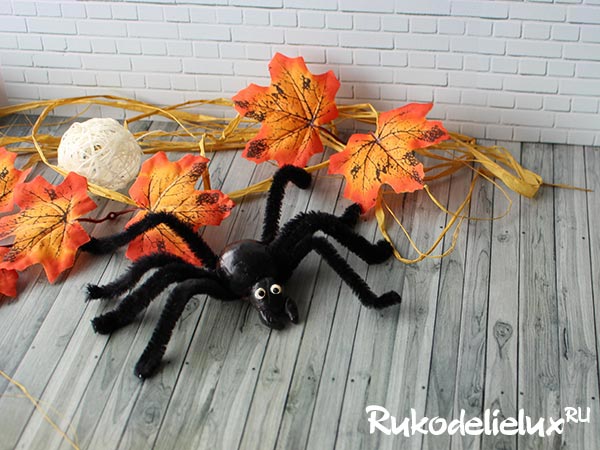 Our Halloween spider is ready! Well, let's go scare your friends ???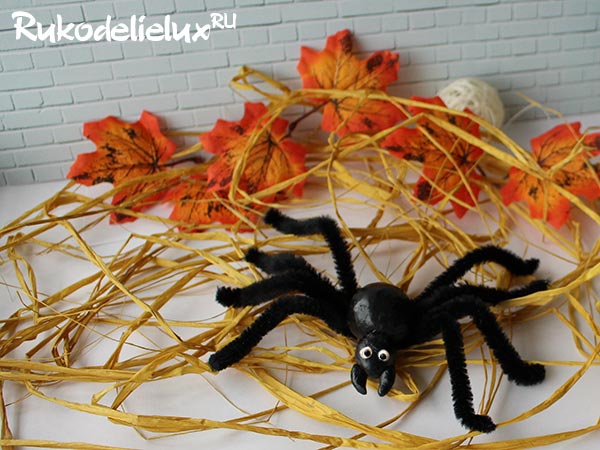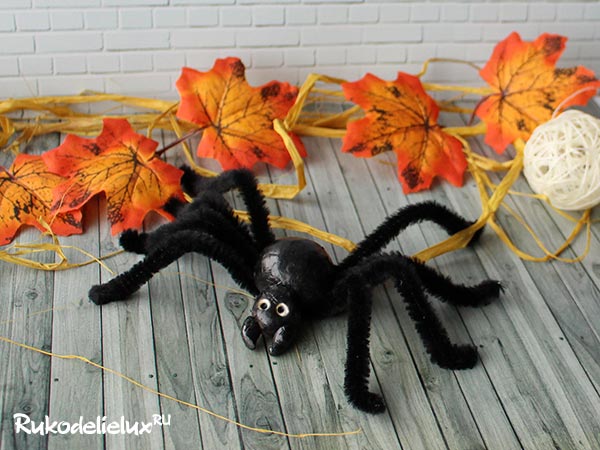 02. Cut off finger master class
Imagine you are presented with an elegant black box. In it, you expect to see everything, anything - jewelry, original flash drive, etc .. Open - and there is a cut off finger! What do you want? After all, today is Halloween !!! If you want to make the same gift to your dear friends, then let's proceed to the master class.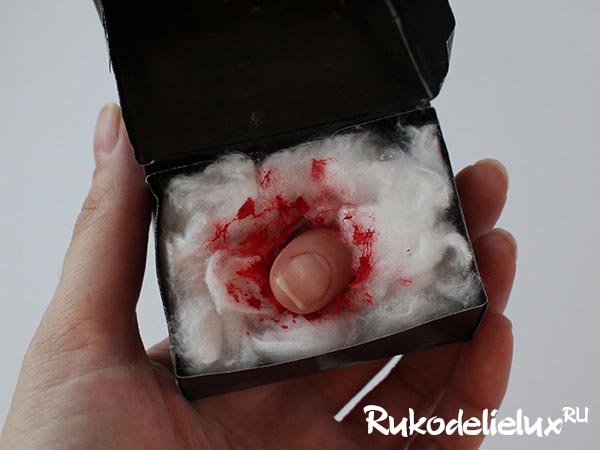 This Halloween article is not for small children!
First of all, for this crafts for Halloween you need to print the box scheme.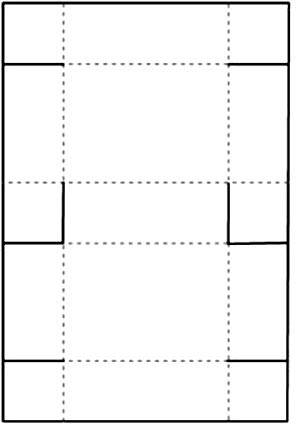 We transfer the scheme to double-sided black paper. We make cuts along solid lines, and along the indicated dashed lines we bend.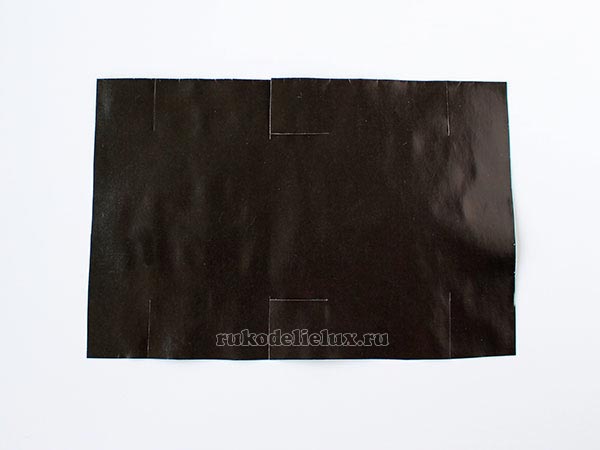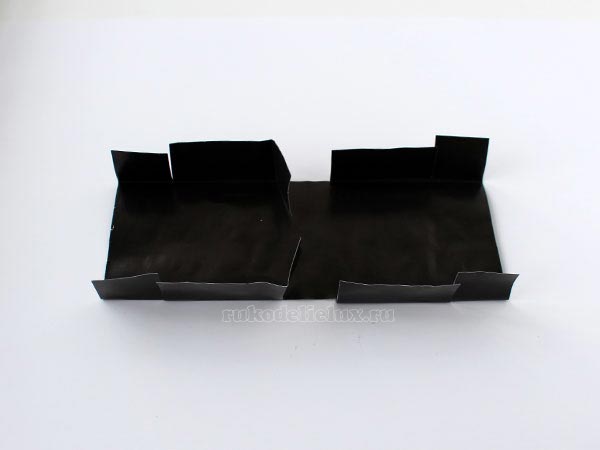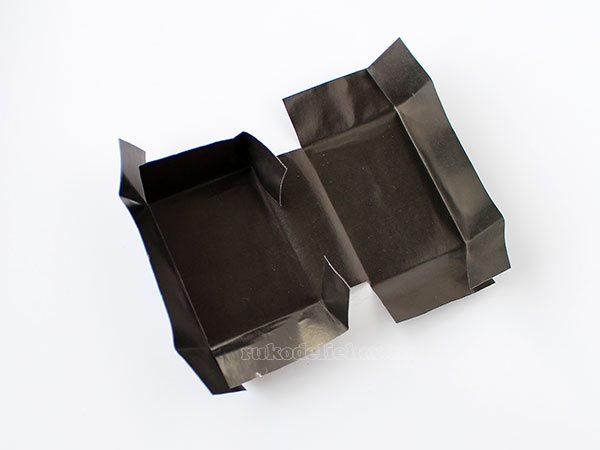 We assemble the box - glue the edges.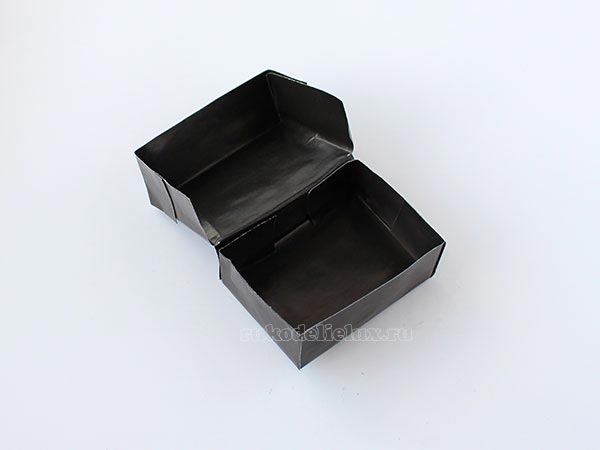 Using nail scissors at the bottom of the box, cut a small hole for your finger.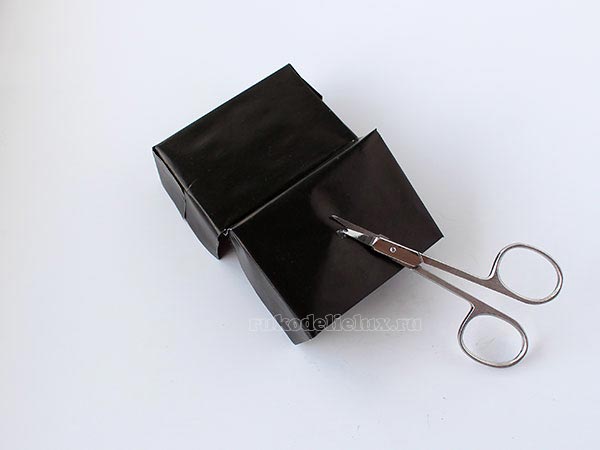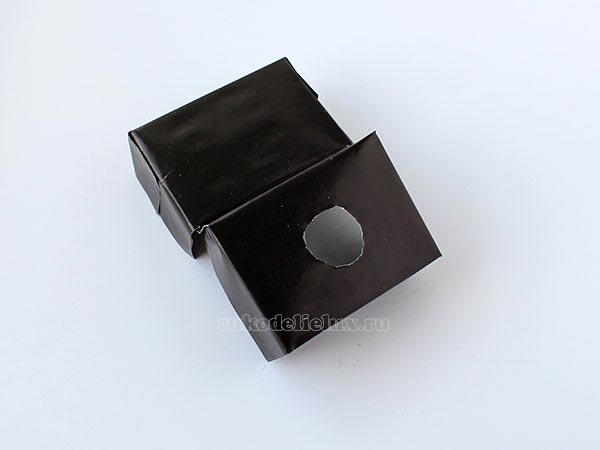 Fill it with cotton wool and cut it with red acrylic paint.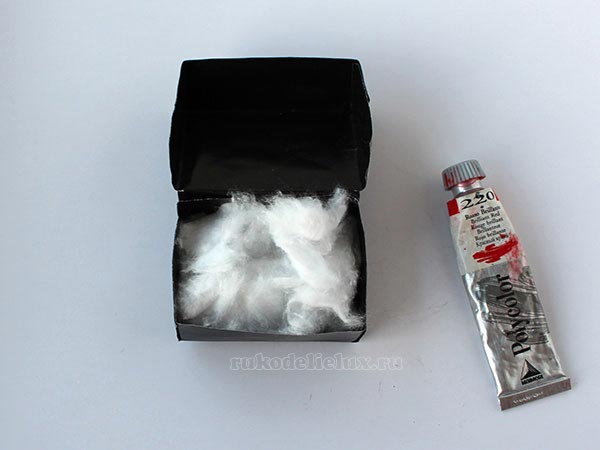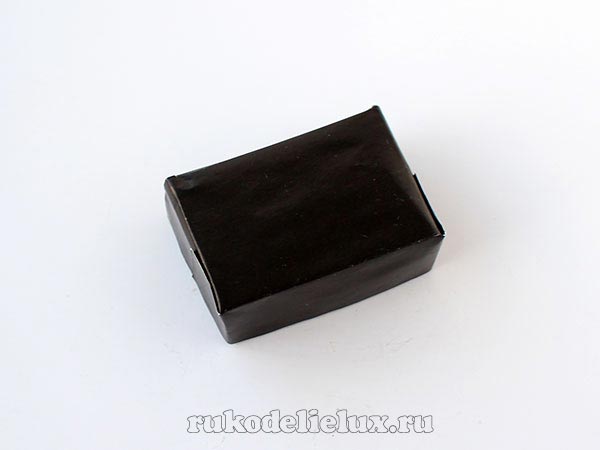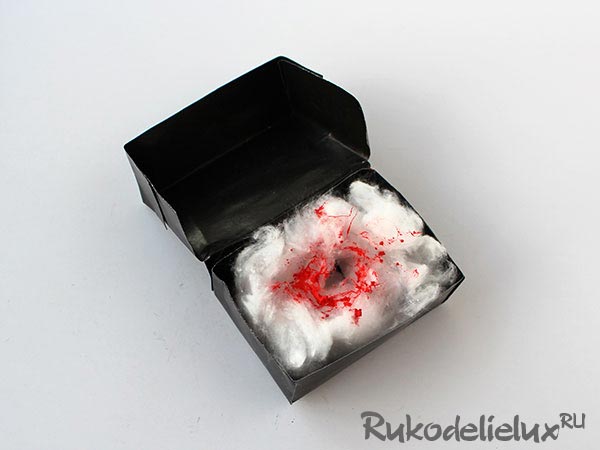 That's it, our terrible handiwork "Cut off the finger" is ready!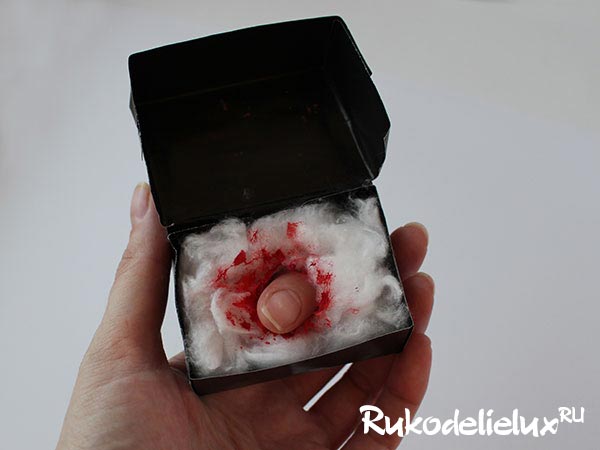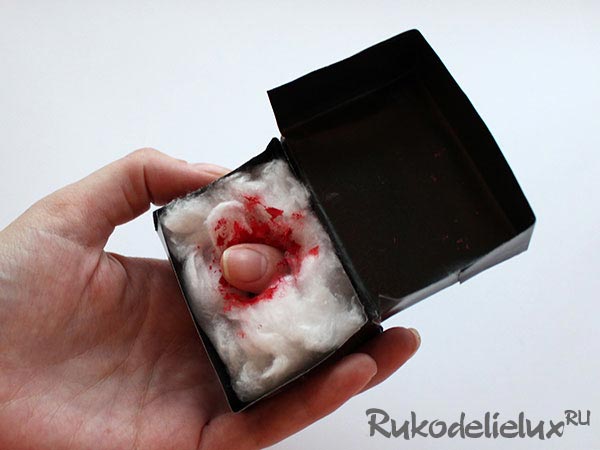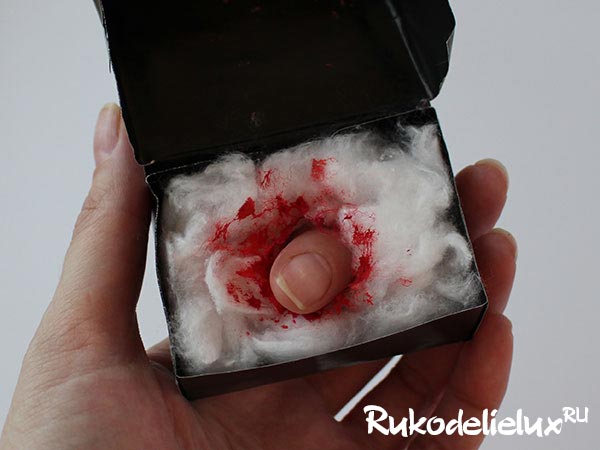 03. How to make an owl from plasticine
The owl is one of the symbols of the dark forces, the companion of Baba Yaga or the witch, who brews a potion and conjures. In fairy tales and cartoons, an owl is always sitting next to an old hag;Our hobby will turn out to be an interesting, harsh, suitable theme for the holiday of Halloween, but not at all evil. And it's not at all scary to sculpt it, on the contrary, it is fun and exciting. For an unusual master class on how to make an owl of plasticine, look here.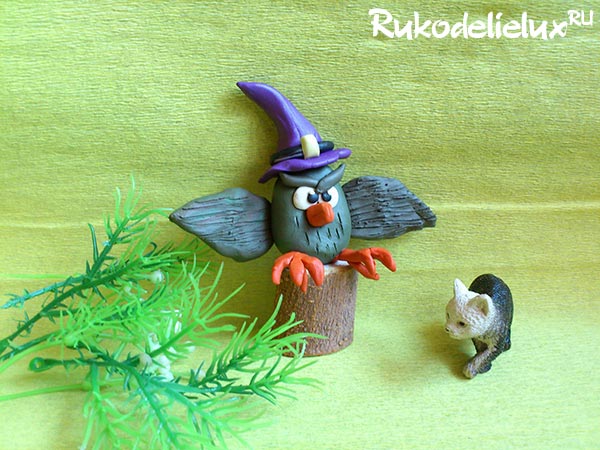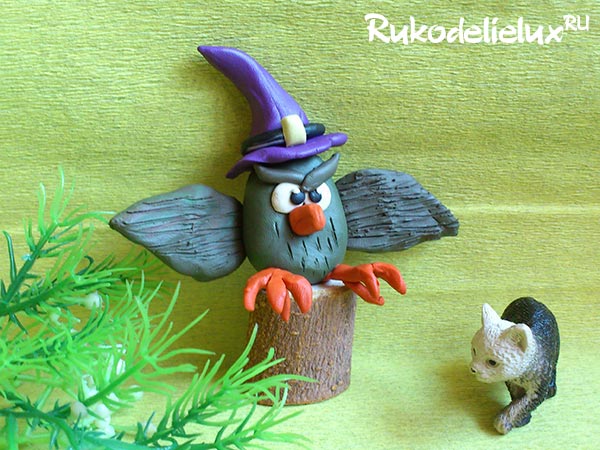 04. Halloween Interior Decoration with Spider
On Halloween, the human house is transformed into a witch's castle or a ghost cave. After all, it is decorated with artificial snakes, bats, toy spiders. Garlands of bats are very popular - they resemble these animals on the walls of a cave. A funny addition will be a neat witch's whisk. And most importantly, do not forget about the many burning colored candles.
Convenient for walls to use colorful posters - kids can paint them. Paint them with monsters and monsters, burning pumpkins and spiders. In this master class we will make the interior decoration for Halloween with a spider - it can also be hung on the wall or just presented to friends.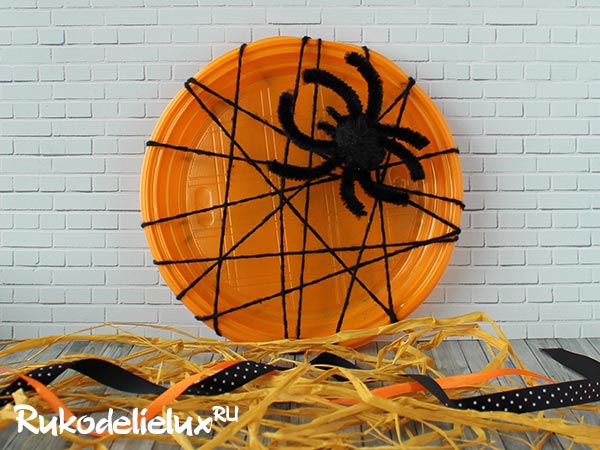 For this Halloween craft we need:
disposable orange plate;
black blue wire;
black yarn;
foil.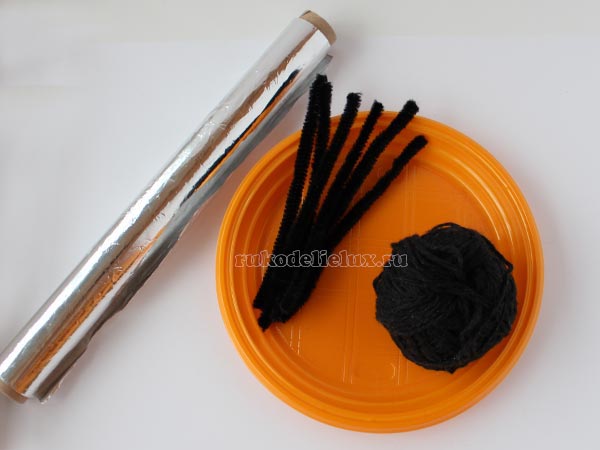 We take five wires of about 15 cm. and connect them together.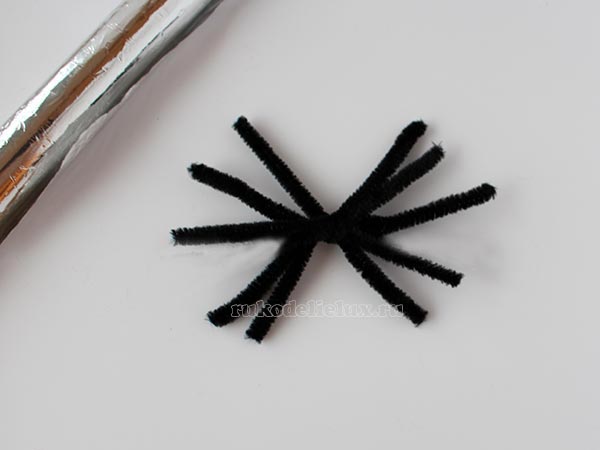 With the help of foil we form the body of a spider.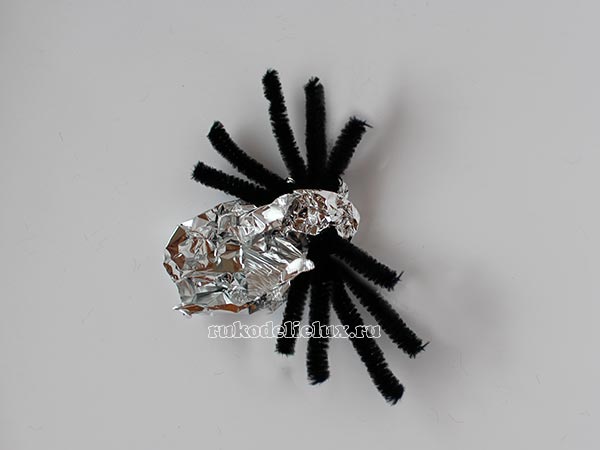 The two front wires are shortened.
Wrap the foil with black yarn.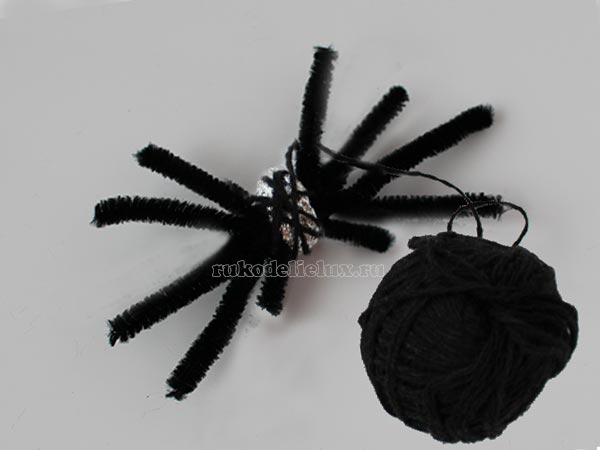 Our spider is ready.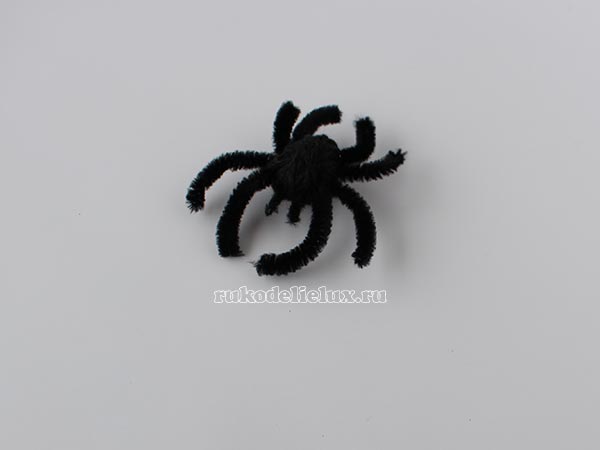 Next, we decorate the plate, as in the photo.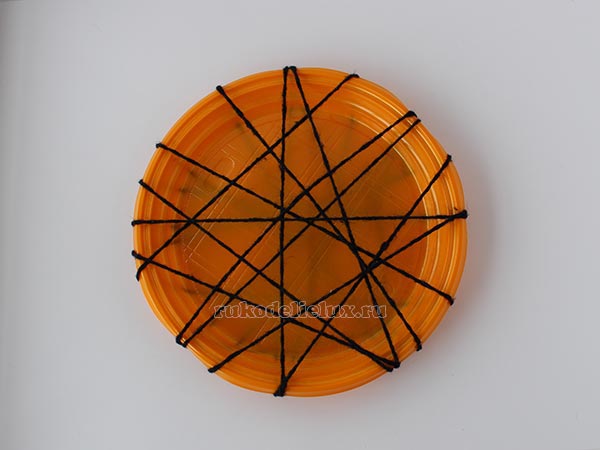 Attaching the spider with a black thread.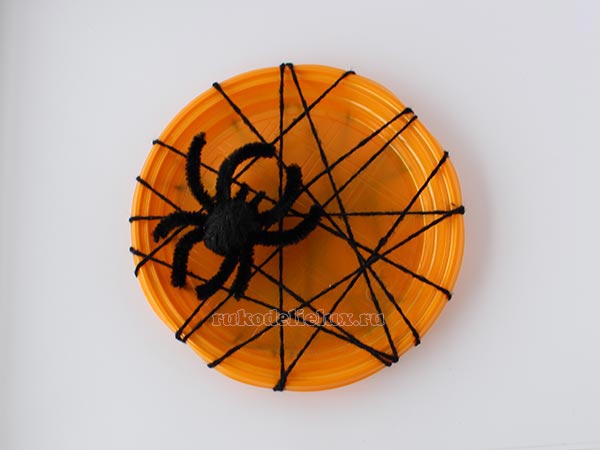 Halloween interior decoration with a spider is ready. On the reverse side, you can make a thread from the thread and hang it on the wall.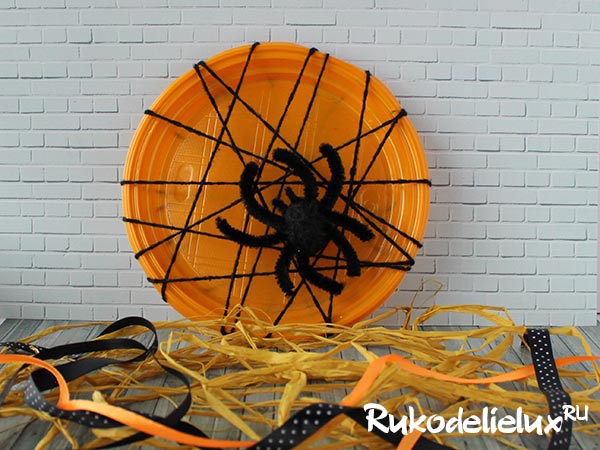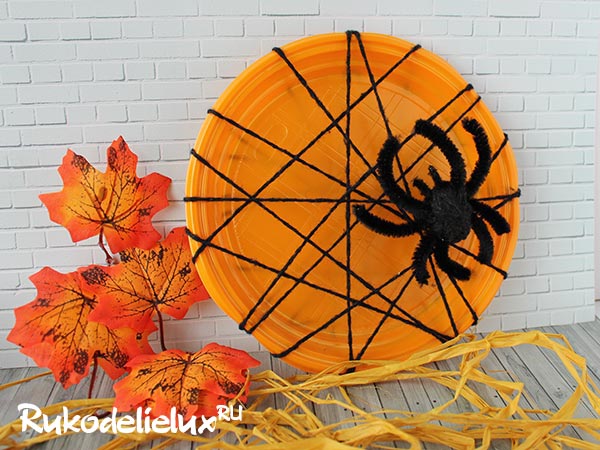 05. Plasticine Zombie Toad - an Unusual Halloween Handicraft
One zombie word scares many, but not on Halloween, when there are a lot of costumed characters around, beautiful but terrifying scenery and fun festivities.The handicraft offered in this lesson is dedicated to this holiday. To make a figure is easy from plasticine. It is unusual, it is happy to blind children with their parents or teenagers on their own.
What is this? On the one hand, this is a toad - the witch's companion who lives in a swamp, covered with warts, croaking from morning to evening, on the other, it is a faceless zombie who destroys everything in its path. How to combine both of these images in one craft, see below.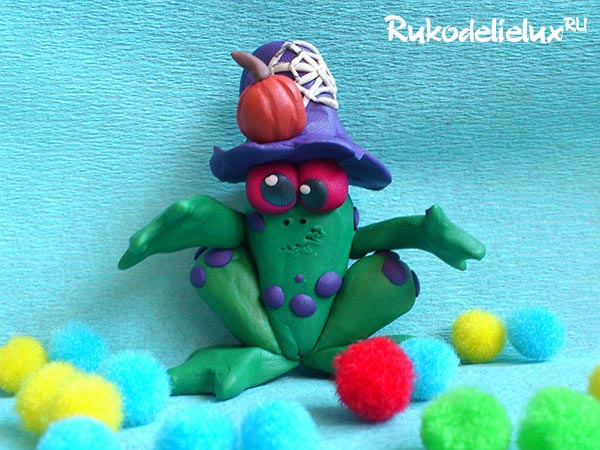 What you need to have on hand to create the proposed figure:
green and purple plasticine;
black, white, red and orange clay.
How to make a zombie toad out of clay
In this lesson, a frog is planned, but it will be unusual, with red eyes and purple warts. On her head she will have a themed hat cap. To create a toad you need to prepare green clay. Mash initially in the hands of the mass and go on to sculpture.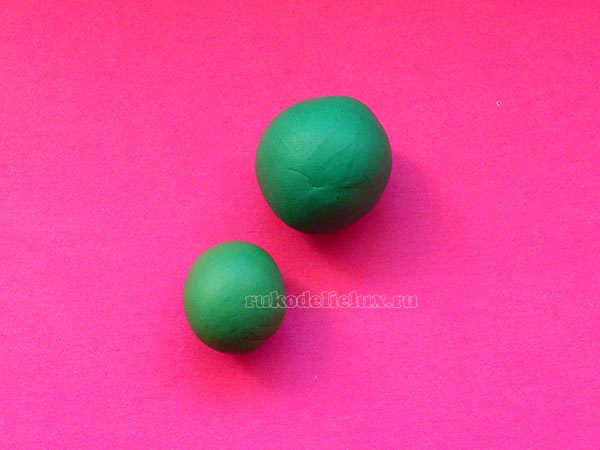 Make the body expanding towards the top. First it will be a sausage, then sharpen one end. To show reinforced hind legs, make 2 volume hips and 2 flippers. These green parts are the largest, so for their production you can use most of the prepared green clay.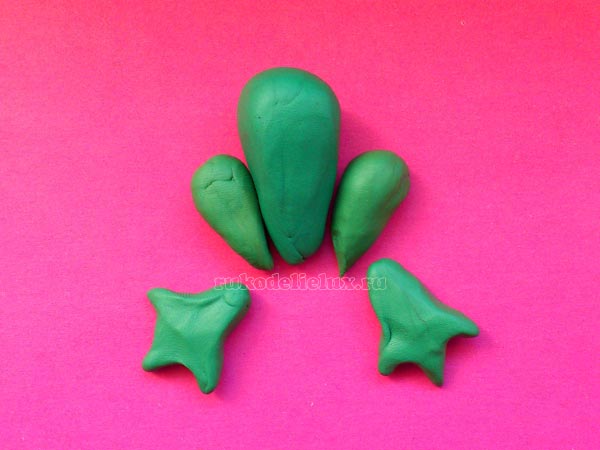 Attach the hips on both sides of the body, pressing down to the biggest part - the body. Bottom dock with flippers, spread them apart.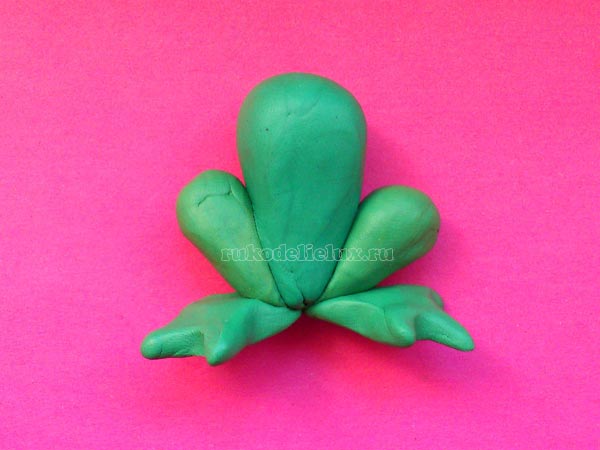 Now cover the entire body and legs with purple warts - these will be dots of different sizes. Tear off the pieces from the main bar, make them pellets and attach in random order to the main workpiece.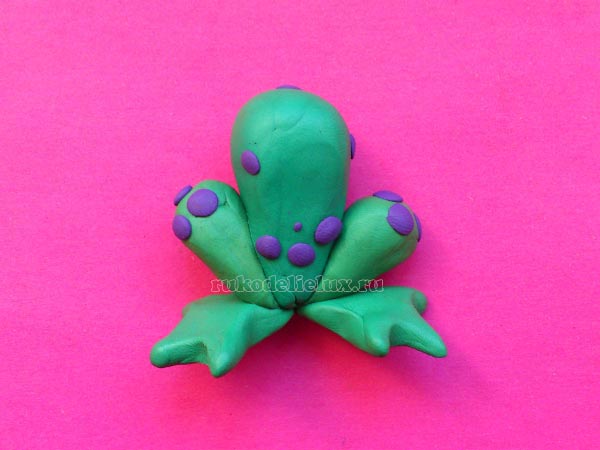 At the top of the main part, make a terrifying toad face that should look like a zombie. Attach red eyes, make a scarred mouth.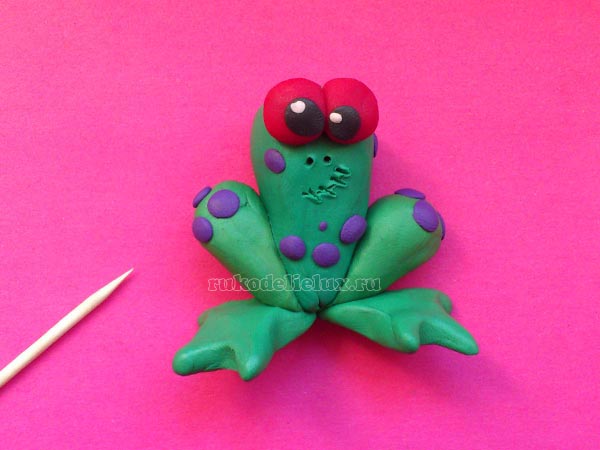 Now form an additional accessory that will show that our figurine belongs to the Halloween holiday - a witch's hat and a small pumpkin. Make a cake and a cap of black or purple color, combine in the form of a high hat.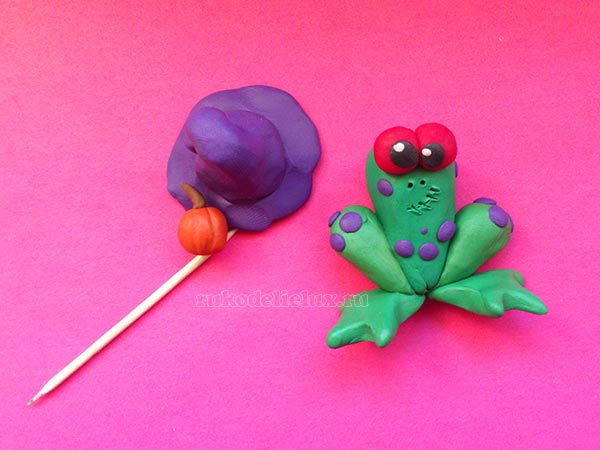 Pulling white clay pieces into thin threads, make a spider web and stick it on the hat in front. Now I've got a real witch's hat, which was lying in a dresser with spiders. Pull the tail to the fields.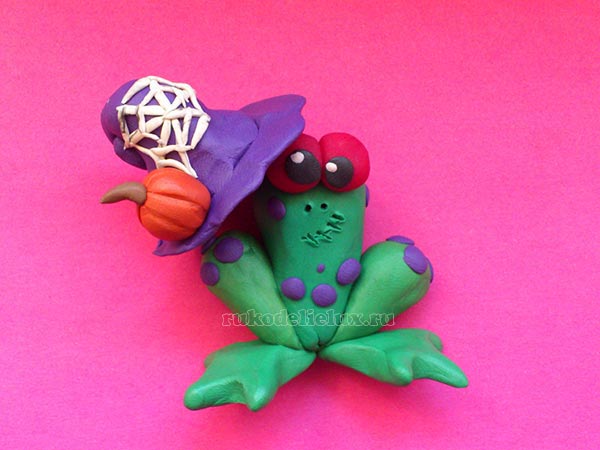 Glue the hat on top. And make the second paws for the toad. If we modeled an ordinary frog, we would show that the amphibian sits and rests on its front paws with flippers. In this lesson, we sculpt the zombies, so glue the front paws on the sides, but do not lower them down, but lift them, pull them forward and lower the fins down.
This unusual Halloween souvenir is made from the most common children's clay.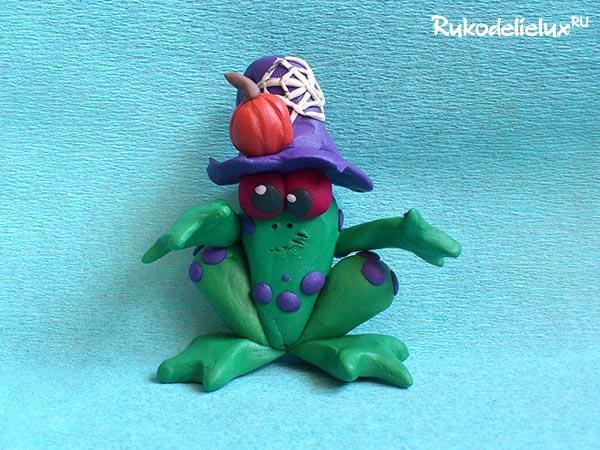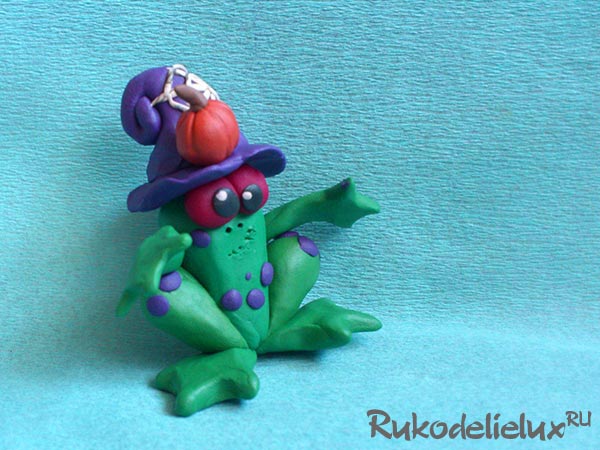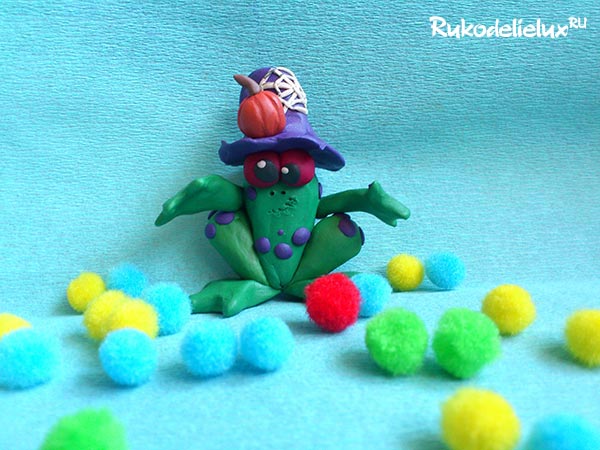 Now you can give it to a friend, even play it, so that everyone can have fun. Fantasize and create new images.
06. How to make a bat out of plasticine
Have you ever been able to look at the details of the bat in detail? These animals fly over our head, as soon as it begins to darken in the street, we are even afraid of them, because we are afraid of everything connected with darkness and uncertainty.Of course, it's almost impossible to look at this brisk night robber at night.
In this tutorial you will learn how to make a Halloween plastic bat in the shape of a bat. She will be black, harsh. It is advisable to lower it upside down, that's how these night swallows live under the roofs and in the caves. How to make a plasticine bat look here.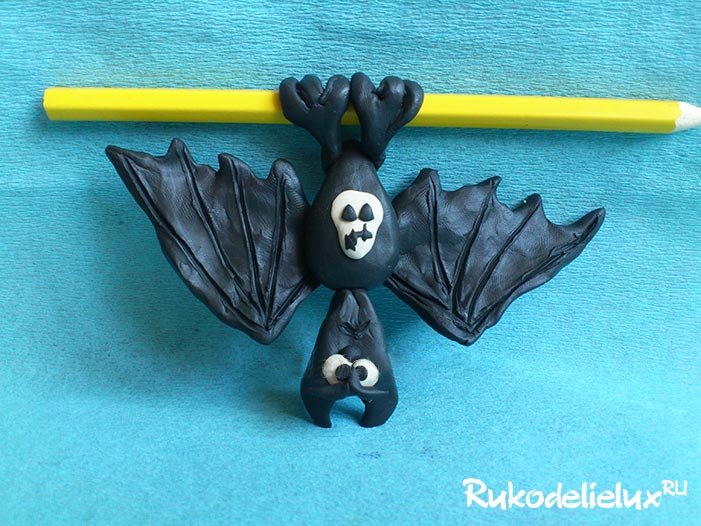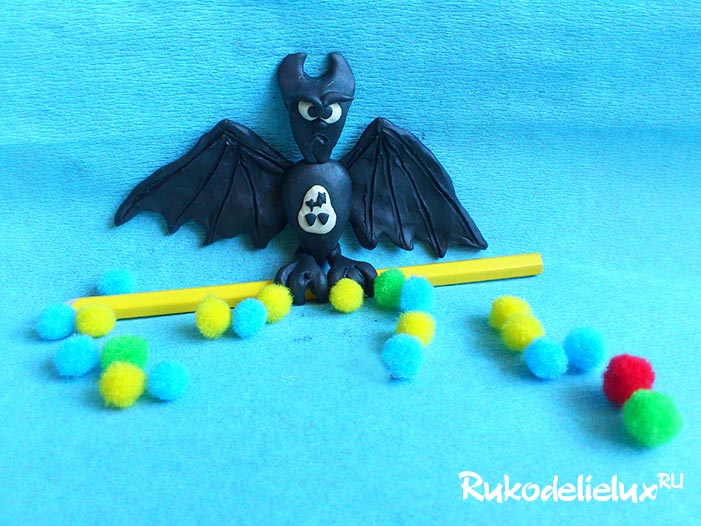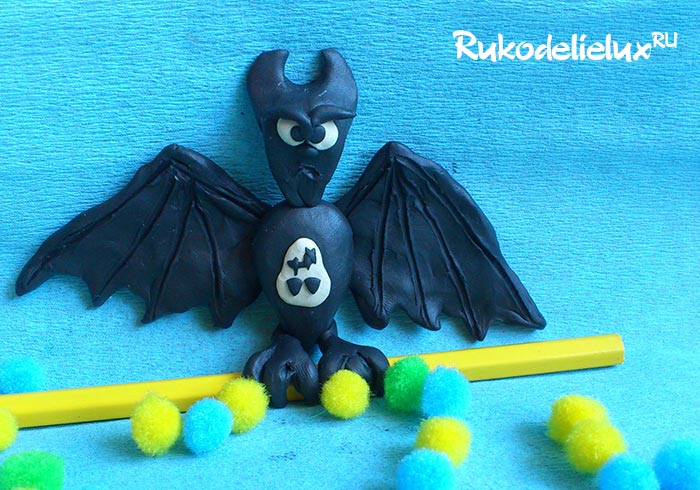 07. Halloween Composition - Ghost Tomb
You do not have to go to the cemetery at night, catch bats and toads, hunt ghosts. They still do not really exist. But a fun composition, where all this will be present, can be done. Do not be afraid of witches or vampires, listen at night to strange sounds, because in the day it all becomes quite understandable. This needs to teach their children. How to make a grave with a ghost, see here.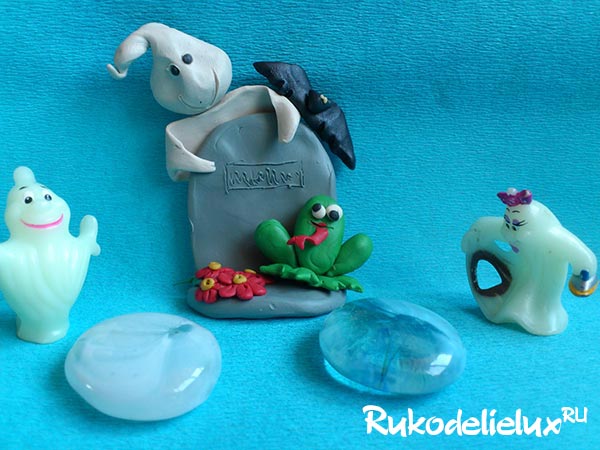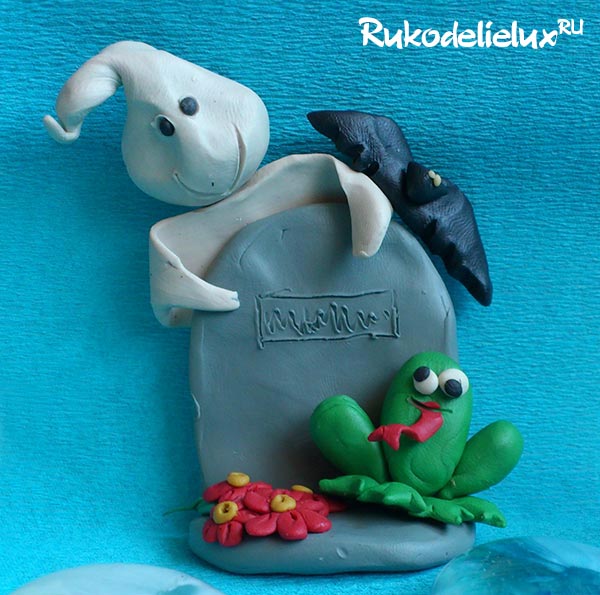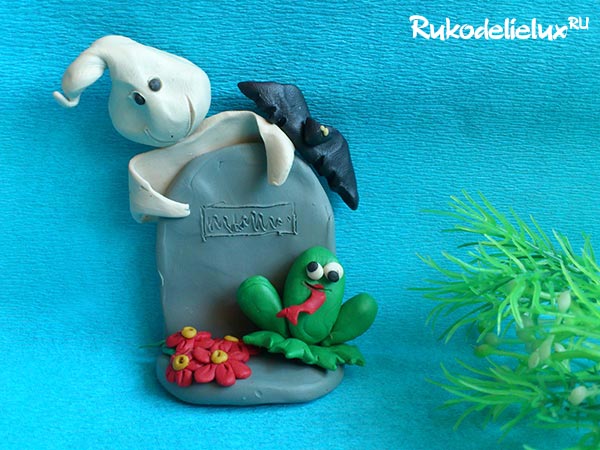 08. Ghost Candy - Halloween Gift
When preparing for Halloween, you often want to add some zest to decorating your house or creating gifts. And in order to arouse more interest in children, you can surprise them with an unusual design of sweets, using your imagination and all the variety of confectionery products.
If you also strive for this, then this master class will definitely be interesting and useful for you. And the creation of such packaging will take you a minimum of effort. So, today we will make a Halloween gift in the form of a ghost with candy.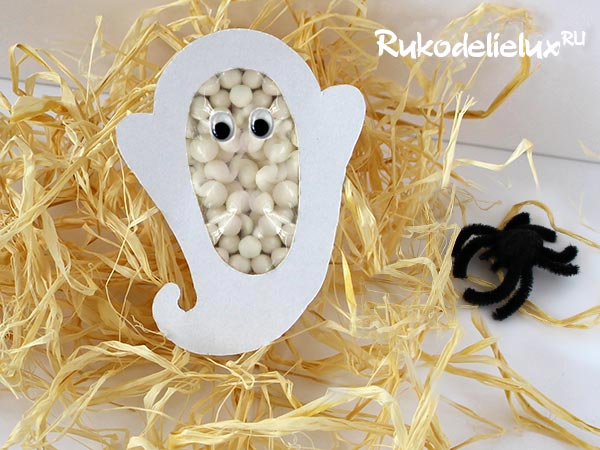 For this craft we need:
white round candy;
white cardboard
small plastic bag;
glue;
eyes.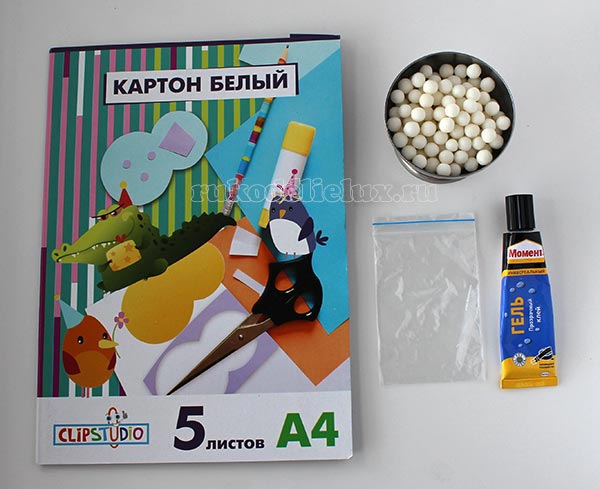 Draw a ghost or print our finished version.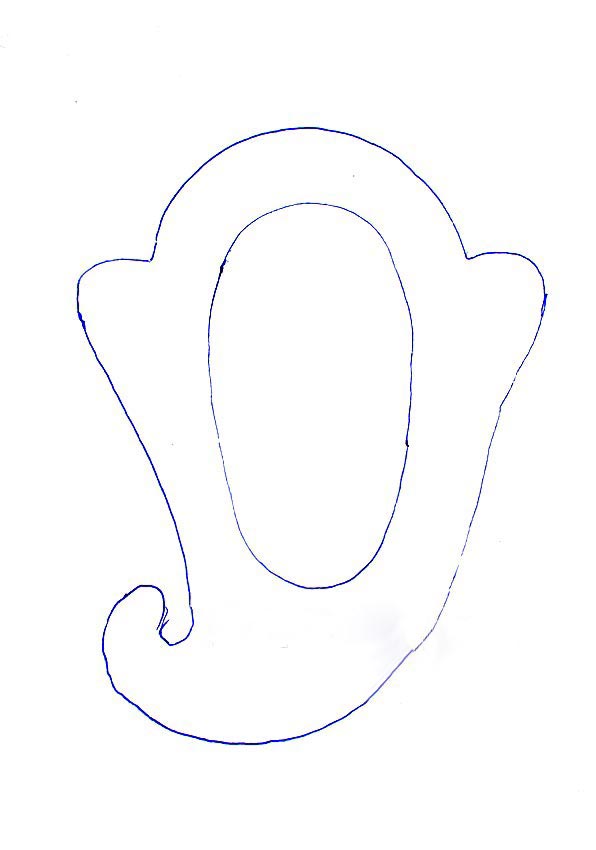 Cut as shown in the photo.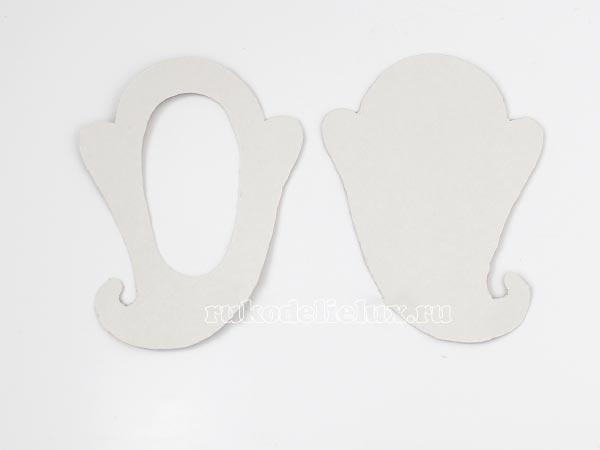 On one of the blanks we glue the bag.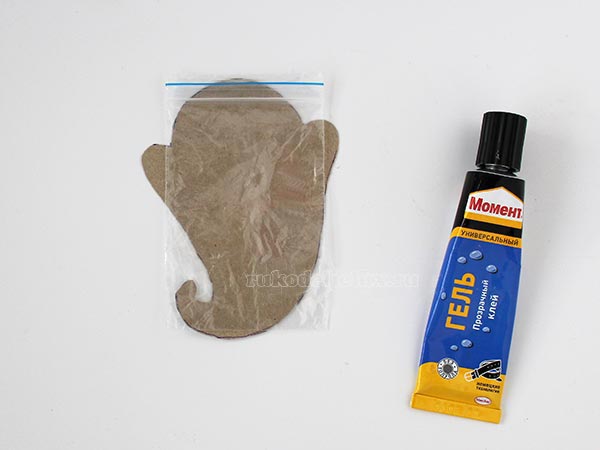 Fill it with candy.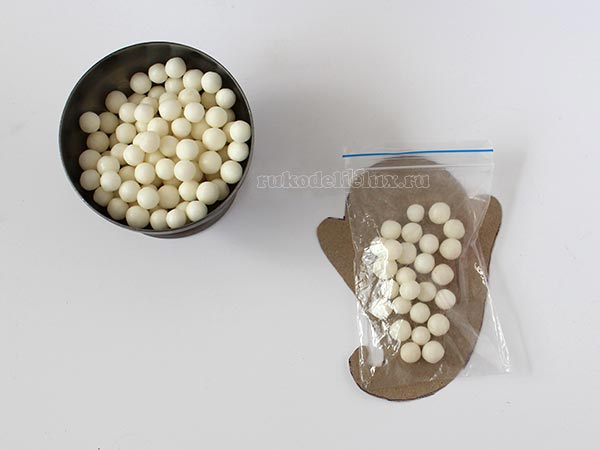 From the top we glue the second blank, then cut the edges of the bag.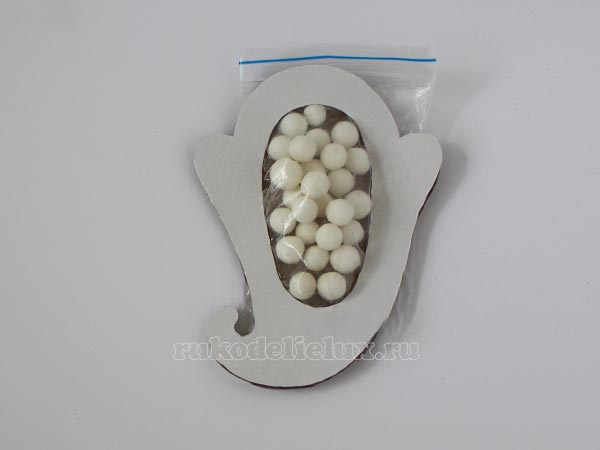 Ghost with candy - Halloween gift is ready!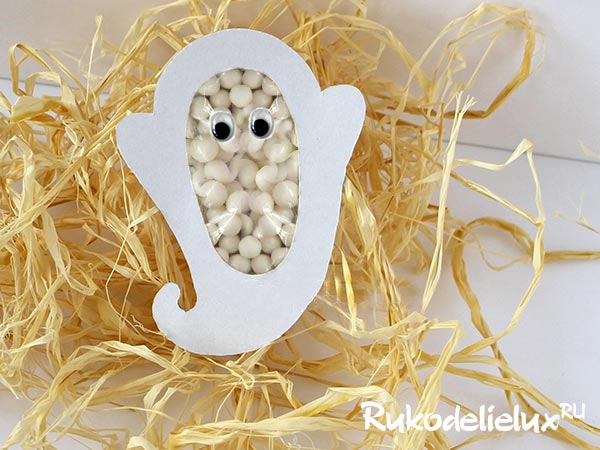 09. Crochet spider application
This application can be used to decorate children's clothes, handbags, etc .. It is knitted very easily and quickly. In this workshop I will show you how to crochet a spider application with step-by-step photos.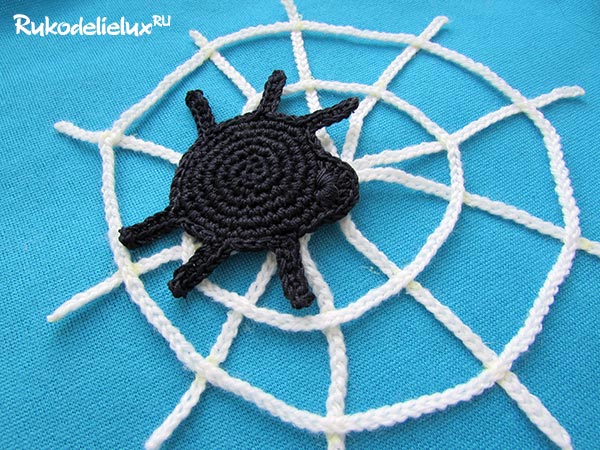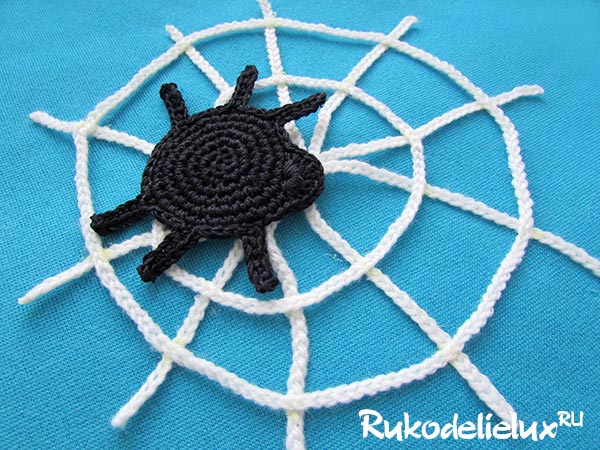 10. How to crochet a bat
This toy fits very quickly, and yarn it needs very little. It can be knit in any color you like. See here - how to crochet a bat.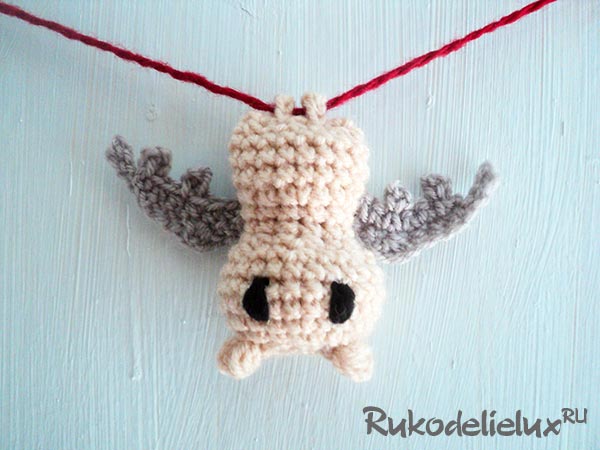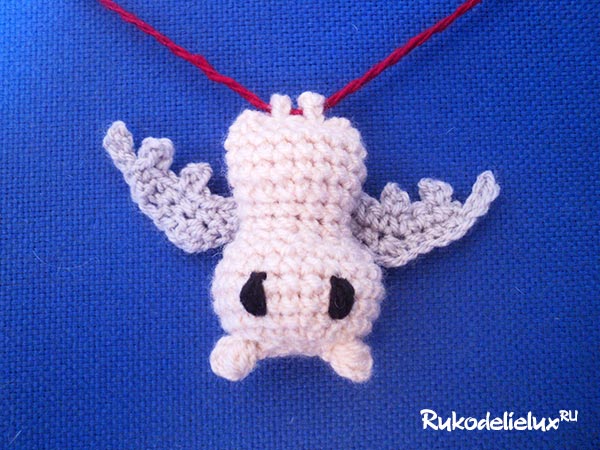 11. A simple Halloween paperwork
The bat is one of the attributes of Halloween, so today, in preparation for the holiday, we will do it with the children. This is the simplest paperwork and is done very quickly.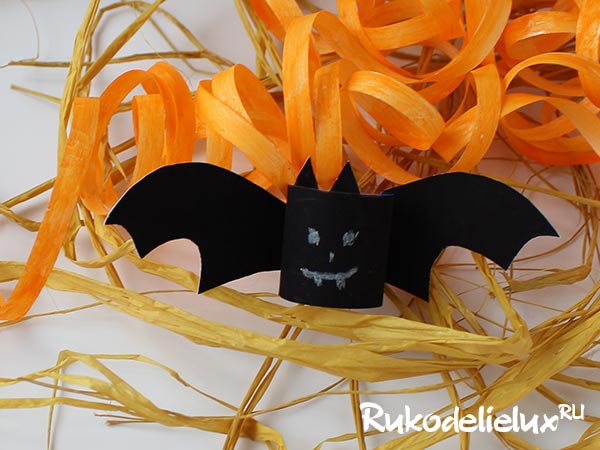 First you need to print a ready-made bat template.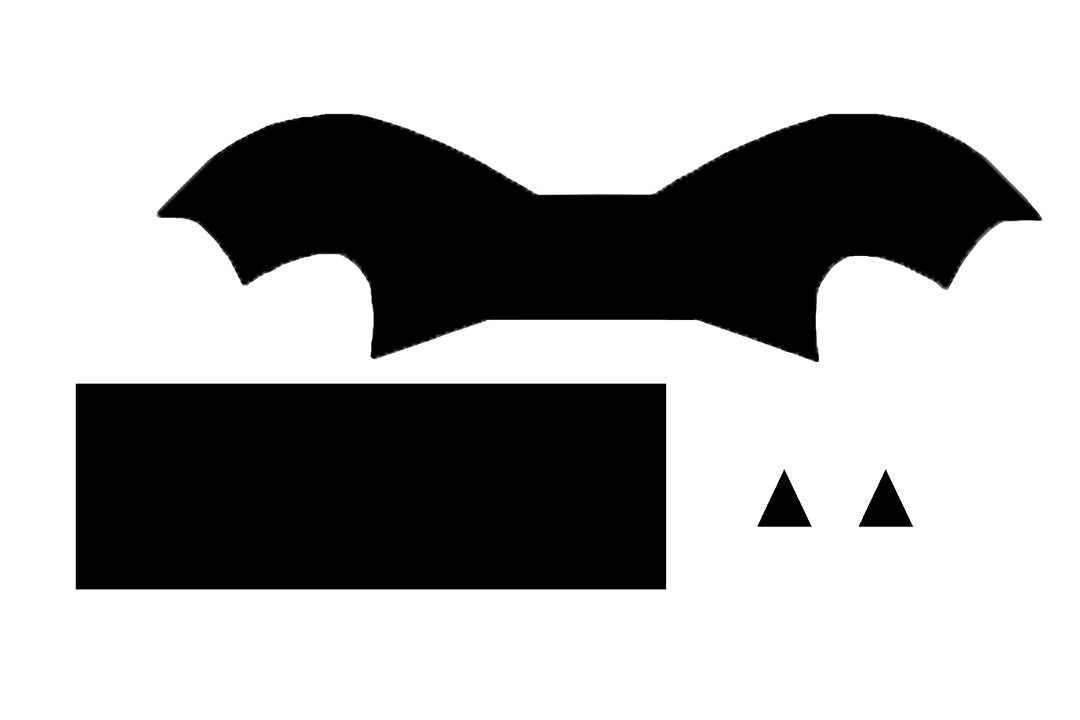 Cut all elements.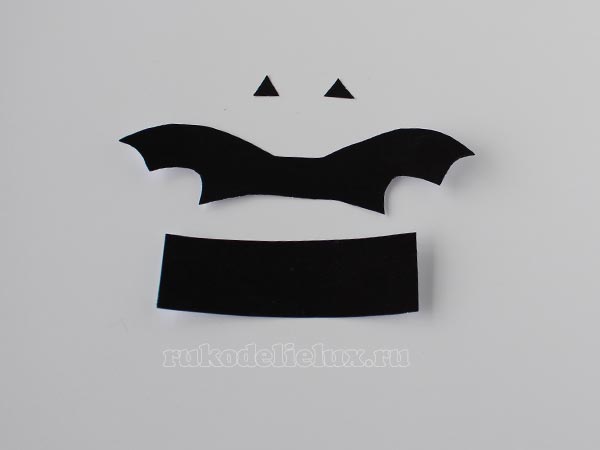 Assemble and glue all the blanks, as in the photo.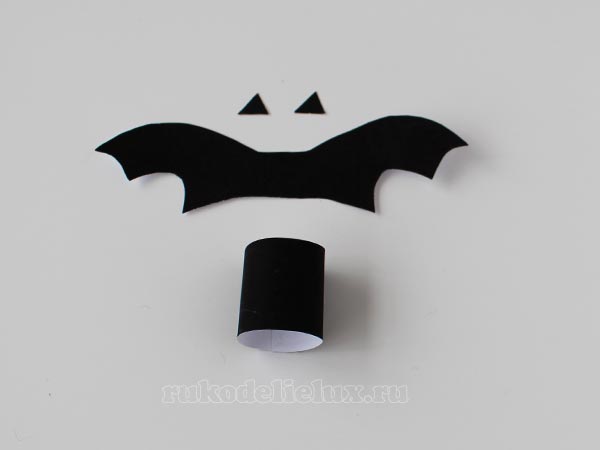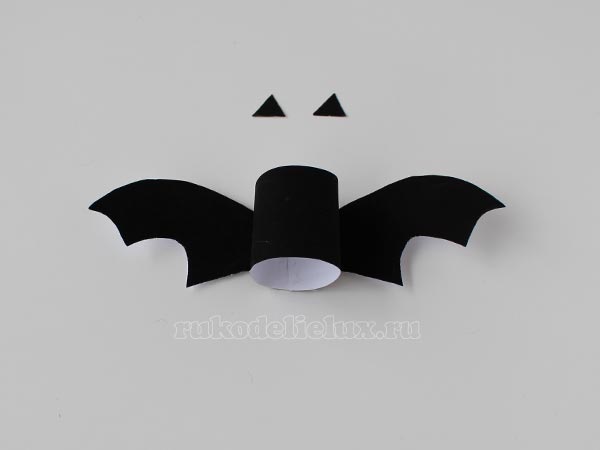 Well, that's it, the easiest Halloween paperwork out of paper is ready!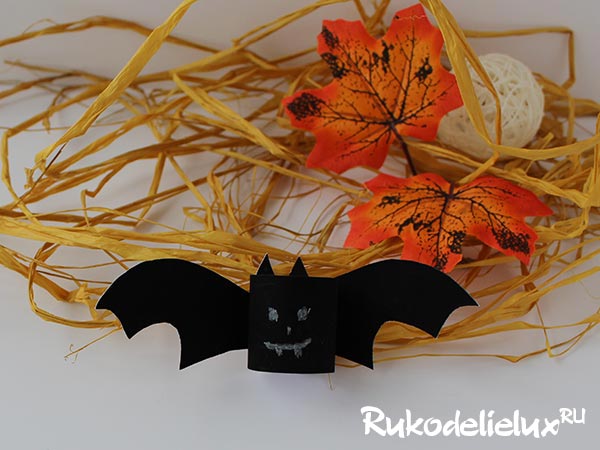 12. How to make ghosts of clay
Agree, not every day children create witches, vampires or ghosts by their own hands, as in this case. Therefore, on the one hand, it is very interesting, on the other - there is a reason to stop being afraid of dark demons. The white ghost with black holes instead of eyes is a classic. Very often these creatures are depicted as such, but why make your own version, for example, purple, like ours. So, in this lesson we blind two figures of different colors in narrow witch caps - white and purple. How to make ghosts of clay - see here.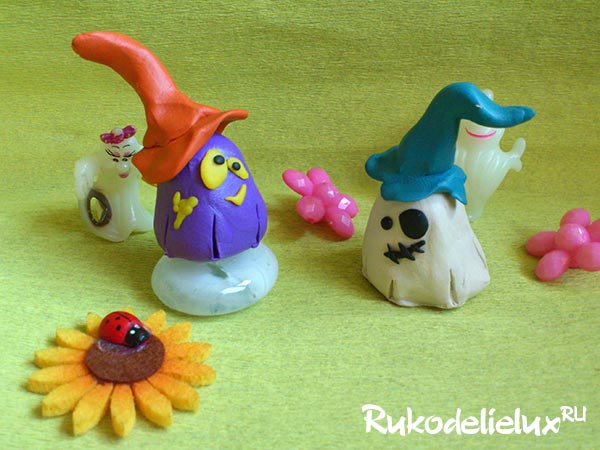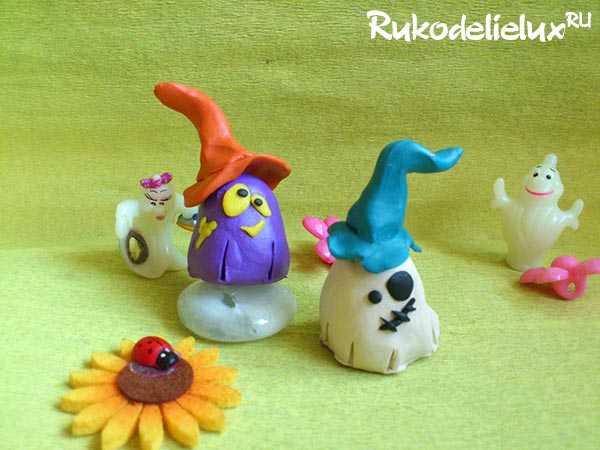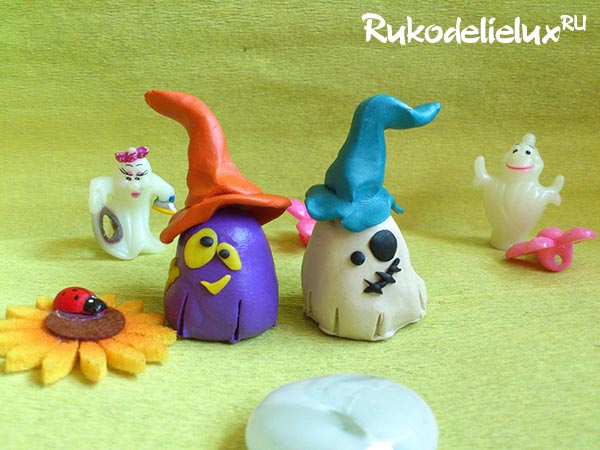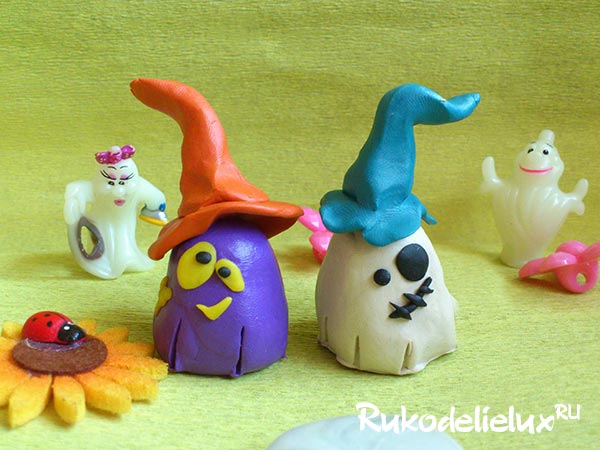 13. How to bookmark-corner bat
Although in fact the bats are harmless, they are still afraid of them, like everything else, which is associated with darkness, at night, and something unknown.And since this is such that such a night beast is an excellent object for copying, if we are talking about an odd job for the day of evil spirits. Together with children, you can make an unusual and functional bookmark in the form of a corner, imitating a vampire bat. How to make a bookmark in the form of a bat, see here.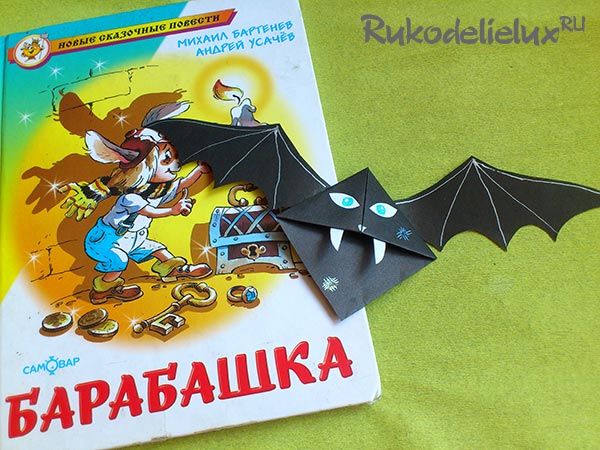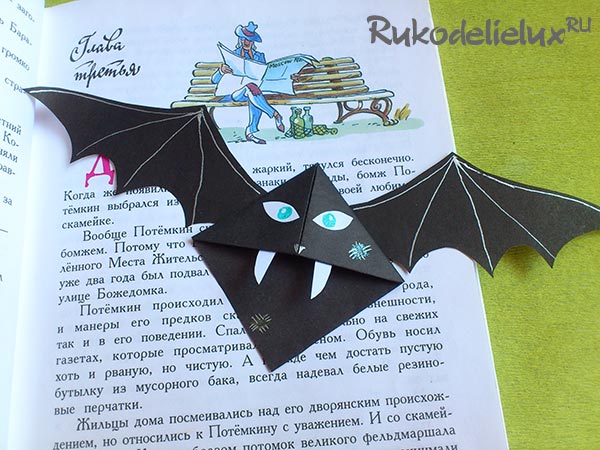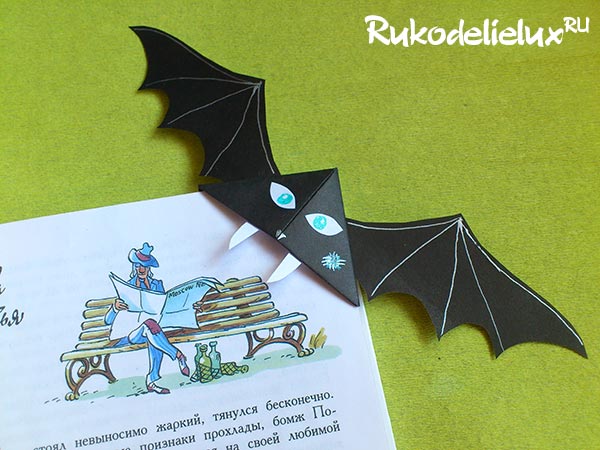 14. Pumpkin in a plasticine hat
Pumpkin is considered the symbol of the day of evil spirits. You can make it with your own hands from plasticine. And for the kids to be completely scared, let's make a pretty face, put on a thematic funny hat from above and, of course, have some fun while working. It is not necessary to do evil crafts, because our task is to teach the child something good and human. How to make a pumpkin from plasticine see here.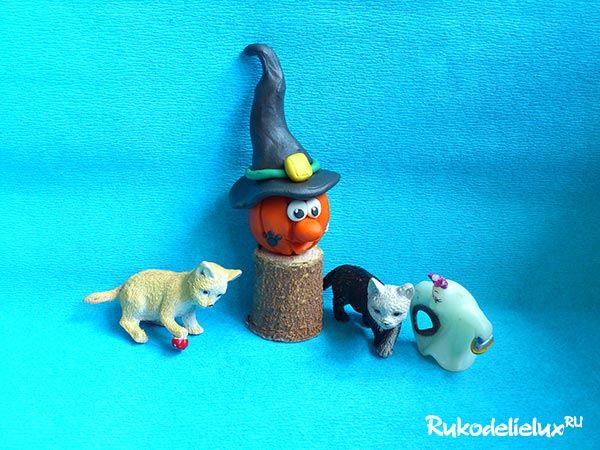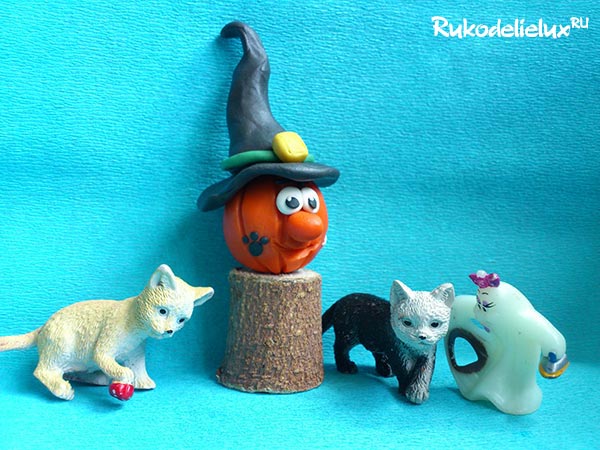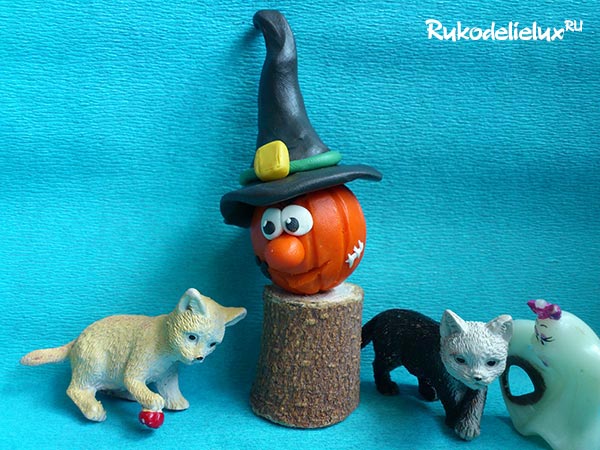 15. How to make a chupa-chups spider
First of all, Halloween is a holiday for children. For who else likes to dress like fairy tale characters? Who else believes in fairy tales? For little pranksters, the Halloween party can become as exciting as the New Year's party.And you can also create interesting and simple Halloween crafts together.
In this master class we will make a spider out of a chupa chus. These crafts are very popular with children, so they are happy to participate in their creation.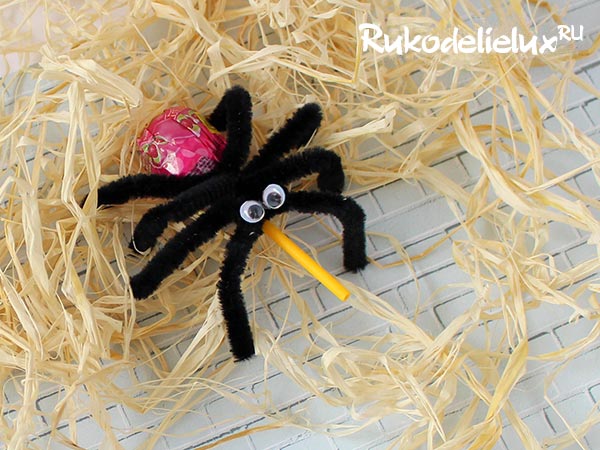 For the master class we need:
lollipop;
black blue wire;
eyes.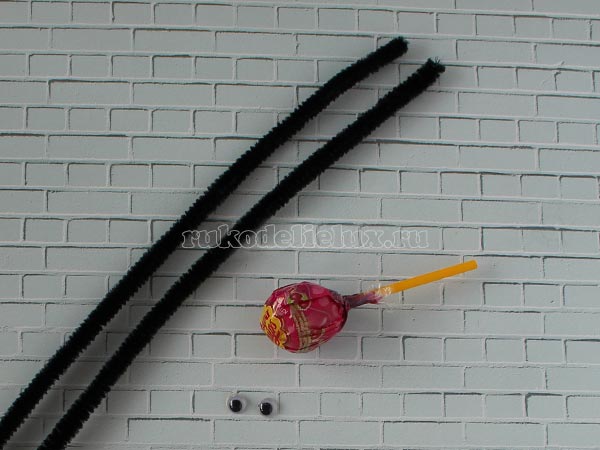 Cut the blue wire about 15 cm apart.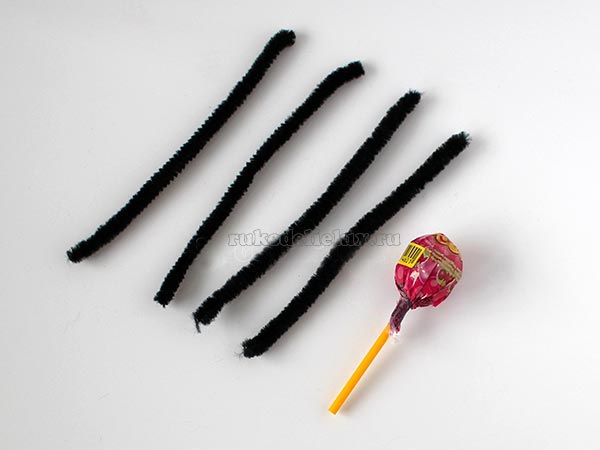 Attach each wire alternately to the rod of the Chupa Chups.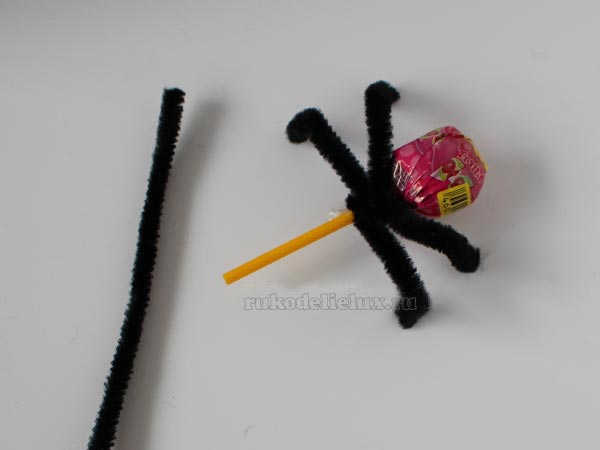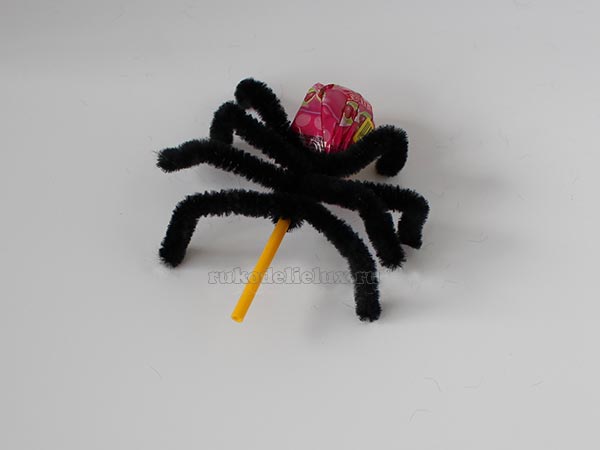 Glue the eyes - these finished blanks are sold in stores for needlework.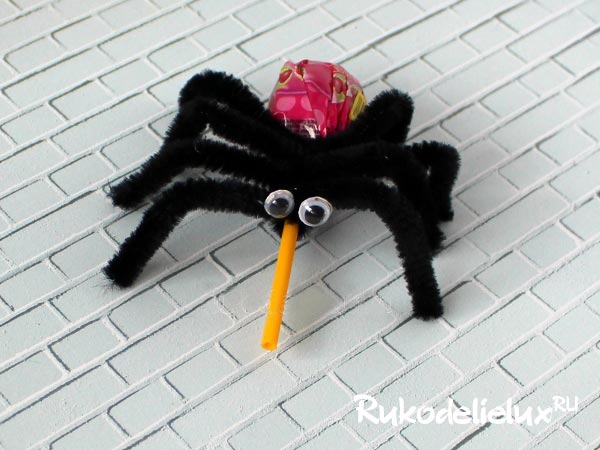 Our chupa-chups spider is ready with our own hands!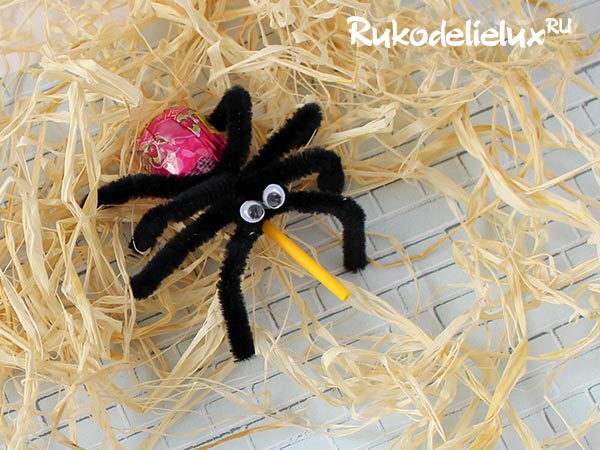 These are great crafts you can do on Halloween. I hope that among the options presented, you liked at least one, the ugliest hack).
Date: 10.10.2018, 13:11 / Views: 52455
Related News
From old jeans you can sew a very practical and cute thing
Used Furniture to Office
Life hacking, which will be useful to each of us
Heart shaped box
Violets on the windowsill
Learn to count from 1 to 10 by Montessori
Pink bow with beads
Unique projects of modern designers: when trees become part of architectural design